Marketing Asset Management Software
Tools to organize, manage, and share all of your team's marketing collateral and brand assets.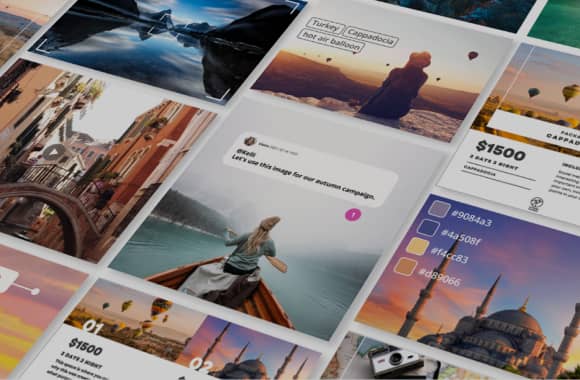 Marketing Asset Management Software
You're likely familiar with it: searching for hours and hours to find the right digital assets you need to create marketing collateral, only to come up with nothing. It may take days to find the files you are looking for, and by then, you are far behind on your work. Perhaps you are working to create a big campaign for your organization to drive traffic and increase engagement, but the end result is hindered because you couldn't access everything you needed. Missing deadlines, having your work pile up, and producing content that doesn't show off your marketing strengths can all happen if you don't invest in an organizational solution.
Those who are part of a marketing team face similar struggles very often, and because many companies prioritize digital marketing, creating marketing collateral is constantly becoming more of a challenge. For this reason, many organizations could benefit from a marketing asset management software, such as the digital asset management software offered by Canto.
Digital asset management software (DAM) is the perfect solution to save time when you are creating marketing collateral. DAM tools eliminate the stress of searching hours for a single file and help your organization put out the best content to boost your image.
Your marketing collateral can easily be improved if you invest in a DAM. Marketing is one of the most essential elements that get your brand name out there for small business owners. For this reason, organizing your digital assets with software like Canto can be a huge help. With Canto's DAM software, your marketing team can spend more time creating compelling content that drives customers to your business.
Media asset management software for marketing teams
The first step that your business should be taking towards organizing your assets is understanding the benefits of media asset management software. For any successful marketing team, knowing how to manage video assets and other types of digital content is a necessity. No matter what you and your team are working on, you will want to make sure that your information and resources are organized to allow for simple access to the media assets that will be used in your campaign.
Since all of the assets you will be working on are likely tailored to specific digital marketing collateral, knowing where everything is can be a huge help. For this reason, Canto is a wonderful option to meet your media asset management software needs.
So, what are the types of media assets that need to be managed? Though you need to know how to manage video assets, digital marketing goes beyond that. Without software that can organize your digital assets, your business risks losing media assets such as design files, photos, PDFs, animations, audio, presentations, unique logos, etc. Think of anything that you consider necessary to have a successful digital marketing campaign — all of these things can be lost without the assistance of a media asset management software.
Another reason why using media asset management software is important is the wide range of digital marketing campaign methods. For each different type of media asset, organization is key. Think about it: You won't be using the exact same assets for a video campaign compared to a presentation or photo campaign. Organizing, storing, and managing all of the different media assets that your business uses means that you will be prepared to manage any type of digital marketing campaign that will help your business the most.
Digital asset management software: An essential tool for marketers
Digital asset management software such as Canto takes a heavy workload off your team's shoulders, allowing for more time to create a powerful and effective marketing campaign. Also known as DAM, digital asset management is a synonym for media asset management and is the most popular term. If you are looking at digital asset management companies for your business, you will likely see the terms used interchangeably.
Even if you understand what digital asset management is, you may be confused about the purpose of a digital asset management platform and the DAM use cases. While a search will show you a list of digital asset management software available to businesses, you won't be able to find the right fit for you if you aren't aware of any of the use cases. Digital asset management software like Canto can be used in various ways, and customers can tailor the platform to their organization's unique needs. By using digital asset management companies for your organization, you are taking a step closer to creating an effective digital marketing campaign.
Generally speaking, using digital asset management software is helpful because it allows your business to build a global brand that is continuously growing. Customers use digital asset management companies and platforms like Canto for different reasons. While keeping a consistent brand image is one of these reasons, Canto has many more uses. Canto customers have used Canto's digital asset management platform to create image libraries, share photos to travel agents across the world, collect and distribute sales collateral, create brand content to share with consultants and on social media, organize brand assets, and more. Canto opens up new opportunities for your business that you may not have considered before, making it a wonderful and accessible option for many organizations.
How to find the best digital asset management software for your brand
The best digital asset management software depends on your organization's priorities. One organization will not have the same needs as another, so before moving forward, you should determine what exactly your business needs. For example, the best DAM software for a large enterprise will look different than the best DAM software for a small business or for self-employed professionals such as photographers. Therefore, it is important that you know what to look for based on your organization's needs, big or small.
A digital asset management software for small business owners or brands will need a platform to help their brand become widely known. Though you may be under the impression that there isn't a purpose for digital asset management software for small business owners, this is not necessarily true — you just need to know what features you should be looking for. While some digital asset management companies target larger enterprises due to the higher volume of content and customers, any brand can benefit from DAM software. Even if your business is small, you may be dealing with a growing collection of content your brand relies on. Given that your small business is constantly expanding, you should have DAM software and a digital asset management strategy set up ahead of time so that, as you start producing more content, you can easily stay organized and on top of requests.
Digital asset management software for photographers will look different from other digital asset management needs. As a photographer, you likely have many pictures piling up, making it impossible to find the one you are looking for when you need it. Having a photo digital asset management software lets you keep your work organized and accessible, so whenever you need to find something specific, you can easily access the file. Grouping images together based on specific dates, photoshoots, etc., make life as a photographer more manageable and more organized.
Choosing the best media asset management software
For marketing campaigns that are more focused on media assets, such as large media and design files, finding the best media asset management software is very important. The organizational needs of media assets compared to other collateral differ in some ways, and your business will want only the top digital asset management systems when determining how to manage your media assets.
The main goal is to control your media assets when searching for the best media asset management software. Media asset management software will not only save your marketing team valuable time — it has numerous features that impact how you deal with your media assets as a whole.
The best media asset management software focuses on larger media files such as long videos and is commonly used in entertainment. If your organization is focused on videos — especially if the video files are large — then media asset management systems are a necessity. Your organization will require different needs for smaller files and assets like PDFs to have a successful campaign. Ultimately, media asset management is focused on large media and design files, whereas other asset management prioritizes a large quantity of smaller files for your marketing team.
Why marketing teams choose Canto to manage media files and other digital assets
Canto has one of the top digital asset management systems because of all of the unique features that it offers businesses in need of media asset management software. For example, Canto offers customers metadata synchronization, allowing your business to organize and update their system of tags and keywords. Canto also makes organizing and finding files easy and enables smoother workflows as teams create, manage, and share digital content. In addition to these features, Canto can improve and accelerate communication in your business and allows you to integrate different systems to avoid spending too much time switching between all of the systems that your company uses.
The benefits of digital asset management software
Simplified Organization
Manages digital assets in a central location
Streamline Workflows
Enables automation and enhances team creativity
Quick Search
Locates media files with ease using sophisticated search capabilities
Brand Consistency
One platform to manage your brand across every touchpoint
Flexible Sharing
Securely share content with any audience – with expiring links, public Portals, and more
Advanced Security
Manages permissions with extensive copyright functionality and governs access from a central platform
Choosing a digital asset management platform
Choosing a digital asset management system can be overwhelming. What features matter most? What do you need to know to compare options? To make the process easier, we've put together an overview of key considerations, so you can shop confidently and pick the best digital asset management software for your team.
How does the pricing work?
At its core, DAM pricing is based on number of seats and storage requirements. But teams shopping for a DAM software also need to be on the lookout for hidden costs. Some digital asset management companies charge extra for basic functions, like sharing portals, smart-tagging, reporting, and integrations with other software.
Can you share collections with specific audiences?
Most teams' DAM requirements go beyond simple digital asset management. They also need to deliver content collections to different audiences – internally and externally. That requires a DAM software with flexible sharing tools, like Canto Portals. Consider who needs access to your content – including sales teams, distributors, customers, and agencies – and ensure your new DAM solution will allow you to easily deliver curated collections to anyone.
How steep is the learning curve?
DAM software makes your organization's content accessible. Look for a system that packages all of the powerful DAM features you need in an intuitive interface – so your team can hit the ground running. Also consider ease of use for external users. Do they need an account to add and retrieve content? Or can you share individual assets, upload links, and public or password-protected portals without much fuss?
Does it integrate with the other tools your team relies on?
Integrations speed up your workflows by connecting your content library with the software you use every day. Look for out-of-the-box integrations with tools like Adobe Creative Cloud, Workfront, and Microsoft Office. Need something more niche? Your DAM solution should offer a robust API, so your developers can connect it with any application you like.
Is it video compatible?
If video is part of your content strategy, the best media asset management software for your team will make it easy to work with video. Can you preview video files without exporting them? Can you trim videos to download just the clips you need? Is there a Premiere Pro integration? Not all DAM systems are video compatible, so make sure to try before you buy.
Can you configure it to make it your own?
Every organization is a unique ecosystem of people, processes and procedures. Your DAM system should adapt to your team and industry. Are there customizable fields to categorize assets and filter search results in a way that makes sense? Can you brand the interface and external portals with your logo, colors and imagery? Consider how easy these configurations are to implement. Is it a simple setting adjustment, or does it require custom code?
Is it secure?
Keep your digital assets safe by ensuring your DAM provider uses proper encryption and security protocols. Where will your assets be stored? Is the data center secure? A reputable DAM provider shouldn't hesitate to discuss security and data protection.
Do they offer high-quality, ongoing customer service?
Choose a trusted vendor with an established track record of providing DAM services to major brands. DAM is a complex field, and it takes time to build up the expertise to serve clients well. Digital asset management is an ongoing process, not just a one-time installation. Look for a DAM vendor that will provide ongoing customer care from an experienced support team.
Learn more about DAM Solutions
Ready to take control of your media library? Get started.