Brand Management Software
Tools to manage digital content and guidelines — for an on-brand experience every time.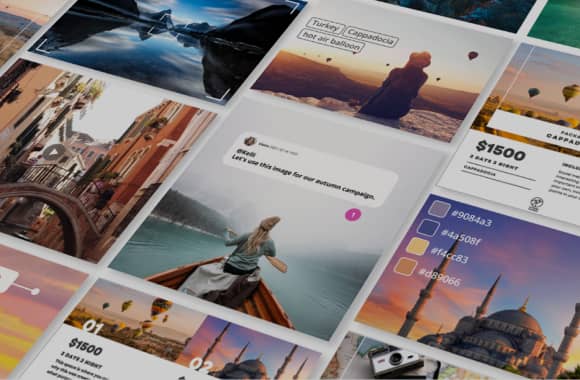 Brand Management Software
Brand managers are tasked with ensuring that all of an organization's content remains consistent across platforms. They may have a team of copywriters and designers at their disposal, but each has their own style and way of approaching their craft. That is why it is important to establish and maintain a cohesive voice for the brand. If the established brand is not monitored for this, then the messaging and design becomes choppy, confusing, inconsistent and disconnected. A disjointed brand like that would not serve any organization well.
In the same manner that the multiple actors playing the same Disney Princess across Disneyland need to match their voice, signature, and mannerisms to one another, so too do copywriters and other employees need to conform to the voice, tone, and personality that have been predetermined by brand managers and other stakeholders.
That is where a brand management software like Canto can come into play. Brand asset management software can house all of an organization's digital content and guidelines. From logos to approved color schemes to preselected fonts, brand management software can centralize all of this information so it is at the fingertips of anyone who needs to create and/or review content.
This allows all team members to be on the same page on what is expected regarding branding. Brand management software can come equipped with content controls so that the best brand assets are distributed to the appropriate people.
For example, Canto organizes this data in a unified library so all team members know exactly where to go to find guidelines, the most current versions of brand assets, and what content has already been approved to use. Having all assets related to digital content in a centralized location can cut back on the long email threads of asking for approval and seeking relevant templates.
Why is brand asset management important?
Once a brand has been fully established, companies need to develop and implement a brand asset management strategy. Well, how does one go about that?
Brand asset management does not need to be difficult, but it does require some forethought. One way to do that is via the Brand Asset Valuator (BAV) model. This format measures a brand's value in an organization. This is determined by four major pillars, which are divided into two larger categories.
Brand Vitality
Differentiation – A brand's ability to differentiate itself from others
Relevance – How relevant is the brand to consumers
Brand Stature
Esteem – The consumers' perception of the brand
Knowledge – How aware consumers are of the brand
Brand vitality demonstrates an organization's potential for growth, whereas brand stature measures how consumers respond to a brand. The BAV model is a good model to start with because it allows businesses to pinpoint strengths and weaknesses to assess its general brand equity and devise a brand asset management strategy based on that data. If esteem in a brand is high, but differentiation is low, strategists can prepare brand management packages by considering what could set its brand apart from competitors in the presentation of the brand to consumers without taking away what consumers like about the brand that has built high esteem and good rapport.
Brand asset management is a science in itself, and luckily there are tools and techniques available to help walk you through the process.
How brand management tools can help
Brand management technology is a booming business. As companies realize that digital asset management is critical to streamlining their workflow, various brand management tools have emerged to fill the need.
Digital asset management software is a brand management tool that allows companies to create branded content at scale. Even with multiple people — including agencies and other external contributors — creating content, it's managed centrally, creating a unified brand experience.
Brand management tools offer features that include:
Approval workflows – Controlling what content represents your brand
Version controls – Keeping the most updated versions at the forefront
Expiration dates – Taking outdated content out of circulation
User permissions – Regulating access to approved content
Brand templates – Creating on-brand documents for everyone to use
Integrated style guides – Keeping everyone informed on brand expectations
Digital rights management – Confirming appropriate intellectual property licenses
Easy search – Searching made easy and simple to find files
Content collaboration – working with teams in designated workspaces
These tools will have different value depending on the priorities of the organization, so be sure to analyze all the features of each brand management software program before making a decision.
A brand asset inventory can help you get more out of your brand management software
Now that we've discussed tools for managing brand assets, let's dive deeper into the type of content they manage. What is a brand asset, exactly? In a nutshell, it refers to any element that helps to distinguish a brand. This could be as obvious as a company's name or slogan, but also fonts, color schemes, and the images, videos, or even sounds a brand uses to represent itself. For example, the jagged, lightning-esque font of the Harry Potter franchise is almost as easily recognizable as the name of the "Boy Who Lived" himself. Other brand asset examples include logos, special types of packaging, and even mascots.
Why is it important to keep these pieces of information housed in a brand asset inventory? So that all relevant contributors to a project can easily access every single detail that represents the brand as what it is.
When creating a brand asset inventory, one should begin with a checklist. All the examples mentioned above are an excellent start. A full inventory should include:
Imagery
Photography
Video
Typeface
Icons
Social media handles
Favicon
Ad content
These brand assets do not have to remain stagnant. Performing an audit on one's brand asset inventory is a part of a healthy brand management strategy that allows for continual discussion of the brand's development. How has the brand evolved, and do all of the brand assets reflect that evolution accurately? Keeping a pulse on these changes is critical for brand management, and brand management software can track these changes so everyone is up to date on what assets have expired.
Pick software with a brand guidelines template
Having a brand asset inventory is all well and good, but if there are no guidelines to follow, stakeholders will not know how to apply these brand and digital assets appropriately. That is why brand guidelines templates are an excellent resource that any digital asset management software should have.
As a company grows, its digital assets will only increase, and thus having a DAM system to properly store everything becomes pivotal in keeping workflows streamlined and allowing organizations to produce digital content at scale.
51% of marketers spend time working on content that goes missing or is never used. That statistic is alarmingly high. In that context, a brand guidelines platform becomes a lifesaver in saving time, money, and other resources.
A brand guideline template would typically include the policies and protocols in place for using various brand assets. A company may have varying forms of its logo, but one may be specifically used for letterhead and the other for digital applications. Logos could also be different depending on whether the correspondence is internal or external to the organization. Good digital brand guidelines examples would illustrate to team members exactly when and how it is or isn't appropriate to use brand assets.
When one has these practices in place, and guidelines are clear and accessible to all who need them, it allows for less miscommunication. Organizations can maintain consistency with branding that would not have been otherwise achieved.
Why top brands use Canto for digital asset management
Without digital asset management, 50%+ of marketers have scattered storage, 10,000+ files are lost on team systems, and 7,000+ important documents are scattered with no rhyme or reason. Can you imagine if all of that was calculated in labor and money losses? Think of all the things organizations could accomplish if they were not wasting time on these internal processes and redundancies.
With all of the benefits that digital asset management software can provide, it is a worthy investment for any business. Having an epicenter of all brand assets and guidelines paves the way to greater productivity and increases overall brand health. This is especially true as the pandemic has normalized hybrid and fully remote work, meaning teams need to find ways to coordinate at a distance.
Canto digital asset management can help your organization spend less time organizing and more time creating. As one of the best brand management software on the market, Canto's powerful DAM can store, share, and organize all of your digital assets in a centralized location that is secure and easy to use for everyone. With everything in one place, organizations can make the most of their brand and follow a brand management strategy that remains strong and consistent.
The benefits of digital asset management software
Simplified Organization
Manages digital assets in a central location
Streamline Workflows
Enables automation and enhances team creativity
Quick Search
Locates media files with ease using sophisticated search capabilities
Brand Consistency
One platform to manage your brand across every touchpoint
Flexible Sharing
Securely share content with any audience – with expiring links, public Portals, and more
Advanced Security
Manages permissions with extensive copyright functionality and governs access from a central platform
Choosing a digital asset management platform
Choosing a digital asset management system can be overwhelming. What features matter most? What do you need to know to compare options? To make the process easier, we've put together an overview of key considerations, so you can shop confidently and pick the best digital asset management software for your team.
How does the pricing work?
At its core, DAM pricing is based on number of seats and storage requirements. But teams shopping for a DAM software also need to be on the lookout for hidden costs. Some digital asset management companies charge extra for basic functions, like sharing portals, smart-tagging, reporting, and integrations with other software.
Can you share collections with specific audiences?
Most teams' DAM requirements go beyond simple digital asset management. They also need to deliver content collections to different audiences – internally and externally. That requires a DAM software with flexible sharing tools, like Canto Portals. Consider who needs access to your content – including sales teams, distributors, customers, and agencies – and ensure your new DAM solution will allow you to easily deliver curated collections to anyone.
How steep is the learning curve?
DAM software makes your organization's content accessible. Look for a system that packages all of the powerful DAM features you need in an intuitive interface – so your team can hit the ground running. Also consider ease of use for external users. Do they need an account to add and retrieve content? Or can you share individual assets, upload links, and public or password-protected portals without much fuss?
Does it integrate with the other tools your team relies on?
Integrations speed up your workflows by connecting your content library with the software you use every day. Look for out-of-the-box integrations with tools like Adobe Creative Cloud, Workfront, and Microsoft Office. Need something more niche? Your DAM solution should offer a robust API, so your developers can connect it with any application you like.
Is it video compatible?
If video is part of your content strategy, the best media asset management software for your team will make it easy to work with video. Can you preview video files without exporting them? Can you trim videos to download just the clips you need? Is there a Premiere Pro integration? Not all DAM systems are video compatible, so make sure to try before you buy.
Can you configure it to make it your own?
Every organization is a unique ecosystem of people, processes and procedures. Your DAM system should adapt to your team and industry. Are there customizable fields to categorize assets and filter search results in a way that makes sense? Can you brand the interface and external portals with your logo, colors and imagery? Consider how easy these configurations are to implement. Is it a simple setting adjustment, or does it require custom code?
Is it secure?
Keep your digital assets safe by ensuring your DAM provider uses proper encryption and security protocols. Where will your assets be stored? Is the data center secure? A reputable DAM provider shouldn't hesitate to discuss security and data protection.
Do they offer high-quality, ongoing customer service?
Choose a trusted vendor with an established track record of providing DAM services to major brands. DAM is a complex field, and it takes time to build up the expertise to serve clients well. Digital asset management is an ongoing process, not just a one-time installation. Look for a DAM vendor that will provide ongoing customer care from an experienced support team.
Learn more about DAM Solutions
Ready to take control of your media library? Get started.