Digital Asset Management Software
Tools to organize, find, and share all of your brand's digital content.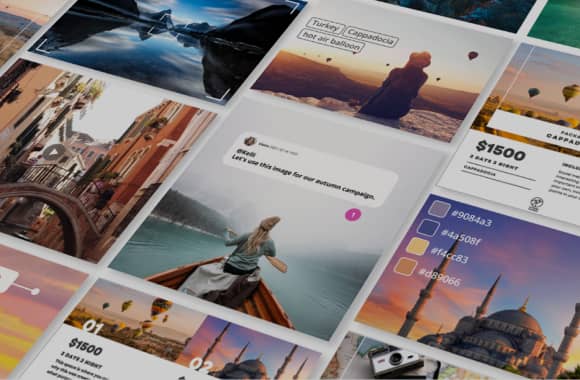 Digital Asset Management Software
Digital asset management software helps users manage and share their photos, videos, documents, and other digital assets from a single, centralized platform. This allows for greater security and the ability to continually optimize your digital assets. This is especially important as you grow your business and acquire more digital assets. The more content and collaborators you have, the greater the need for some type of digital asset library or management system.
Digital asset management companies provide the tools and software to help users manage their assets. Canto is the top digital asset management platform as ranked by G2 and makes it easy for users to organize, find, and share their digital assets. With Canto you can leverage AI-powered tools and smart filters to find exactly what you need when you need it.
Why use a digital asset management platform?
There are several reasons that brands need a digital asset management platform. First, these platforms enable users to create a single source of truth by managing all digital content from one place. When trying to manage several different items across multiple platforms, it can be easy to lose track of what goes where, and this can lead to discrepancies in data. Having your assets in a single location reduces the risk of errors and miscommunication. Another benefit of DAM systems is that they allow users to scale content production to meet increasing demand. This makes more for more simple digital asset management.
Another good reason to use a DAM platform is that it can help ensure brand consistency. Organizing your assets can give you a big-picture view of what you own and whether or not it's working to promote a solid brand image. You can also save time lost looking for content and make workflows easier and more efficient. Rather than having to sort through unorganized assets — which can often be like trying to find a needle in a haystack — you can pull up your library and quickly locate what you need with AI and smart recognition tools. DAM platforms prioritize ease of use, allowing users to quickly find specific assets.
Additionally, digital asset management platforms enable users to easily distribute brand content to everyone that needs it, whether it be sales teams, external partners, the media, or other audiences. In fact, media asset management software can be extremely helpful for companies that regularly work with the media, as they're able to sort assets according to type and can quickly pull up whatever photo, video, or other type of media is required. What's more, with a DAM platform, you can manage the information that goes with content, such as digital rights. While the assets themselves are most important, it's also critical that you keep track of their accompanying info.
These are just some of the ways that a DAM platform can benefit your business. Getting started with digital asset management software can be tricky, especially if you're not used to managing your assets this way, but it can be worth it in the long run to have a more organized, secure asset management system.
Digital asset management system examples
Digital asset management system examples range from basic freeware solutions to professional-grade software. For instance, a digital asset management open source platform allows anybody to modify the source code. A digital asset management software free platform grants users unpaid access to DAM tools. Free solutions can be good for companies with small-scale digital asset management needs, but if you manage multiple types of digital assets, you may be better served by a paid platform with more elaborate tools and features.
Some DAM examples are industry-specific, such as digital asset management systems for libraries. Since libraries host a variety of digital media, it's important that they are able to organize and keep track of these assets in an efficient way. DAM platforms can be particularly helpful for social media companies and other businesses that frequently work and collaborate in the digital media space. YouTubers, for example, need to be able to easily locate graphics and music clips for their videos. DAM systems allow them to do so.
Viewing industry-specific DAM examples can give you a better idea of how these systems operate. Ideally, you should look for a platform that's capable of handling assets related to your industry. Proper digital asset management can mean the difference between wasted time and greater workflow efficiency, and so finding a solution that's right for your business is critical to ensuring the security and organization of your assets. It can also help foster better collaboration, as your team remains on the same page and can work from the same space. This is yet another benefit of having a single source of truth rather than having your assets spread all over the place.
Finding the best digital asset management software
Choosing the best digital asset management software for your business is the first step in achieving an effective digital asset management strategy. You want something that's compatible with your business goals, but that also fits in your budget and allows for scalable growth. There are many types of DAM software, and what works best for one business isn't necessarily going to be ideal for others, which is why it's important to outline your must-have features and determine what you actually need to be successful.
What kind of digital assets do you own, and what tools will you need to properly manage them? Do you own 3D assets? Videos? If so, you might consider 3D asset management software. If you primarily work with photos, a photography DAM system may be best. How important is collaboration to your business? Are you able to manage your assets independently, or do you regularly collaborate with the rest of your team on common goals and objectives? These are some of the questions you might ask yourself prior to searching for DAM software. Knowing what you need beforehand is a great way to filter your options and quickly find a solution that's right for your company.
Ideally, you want a DAM system that can deliver advanced capabilities with a simple, easy interface everyone on your team can use. You should also think about who will be running the system. Can you use complex open source software, or do you require something that's easier to use? There are several factors to consider when purchasing a DAM system, and it's important to think about every aspect and angle in order to find the system that's the perfect match for your business. Each company has different asset management needs, and what's right for your company isn't necessarily right for someone else's, so you should keep your unique needs in mind.
What about free digital asset management software?
Free digital asset management software can be a tempting choice for those on a budget, but it comes with limitations. Free digital asset management for photographers, for instance, often fails to meet the needs of professional organizations, or even small businesses. Free platforms tend to have limited storage options, making it difficult for them to scale and adapt to the evolving needs of your business. Another problem with free solutions is that you don't get access to important features such as AI tagging.
Small businesses and nonprofits need not be intimidated by professional DAM platforms. Because these systems are priced based on storage and seats, professional DAM systems like Canto are an affordable option for small operations. Canto's pricing model is the simplest on the market, allowing users to easily get started. The platform grows as you do, offering access to a full suite of features. Canto also has a training program to help implement the software and get your team up and running with the platform.
Top digital asset management companies
Canto is a leader among the top digital asset management companies due to its flexibility. It's a powerful DAM platform used by top brands and is also a popular digital asset management software for small business. With Canto you can curate your digital assets in a centralized content library that you can customize according to your preferences. You can easily distribute content to others on your team, as well as external partners, using portals and shareable links. In this way, Canto helps foster better collaboration.
Canto also helps protect your assets with approvals, user permissions, and other controls to ensure that only approved content goes to market. The platform features 30 out-of-the-box integrations, allowing users to connect with the platforms and services they already use and giving them the best of both worlds. Using a digital asset management platform like Canto can help you stay organized, protect your assets, and collaborate with your teammates and business partners. Canto is a great solution for companies wanting to get more out of their asset management process.
The benefits of digital asset management software
Simplified Organization
Manages digital assets in a central location
Streamline Workflows
Enables automation and enhances team creativity
Quick Search
Locates media files with ease using sophisticated search capabilities
Brand Consistency
One platform to manage your brand across every touchpoint
Flexible Sharing
Securely share content with any audience – with expiring links, public Portals, and more
Advanced Security
Manages permissions with extensive copyright functionality and governs access from a central platform
Choosing a digital asset management platform
Choosing a digital asset management system can be overwhelming. What features matter most? What do you need to know to compare options? To make the process easier, we've put together an overview of key considerations, so you can shop confidently and pick the best digital asset management software for your team.
How does the pricing work?
At its core, DAM pricing is based on number of seats and storage requirements. But teams shopping for a DAM software also need to be on the lookout for hidden costs. Some digital asset management companies charge extra for basic functions, like sharing portals, smart-tagging, reporting, and integrations with other software.
Can you share collections with specific audiences?
Most teams' DAM requirements go beyond simple digital asset management. They also need to deliver content collections to different audiences – internally and externally. That requires a DAM software with flexible sharing tools, like Canto Portals. Consider who needs access to your content – including sales teams, distributors, customers, and agencies – and ensure your new DAM solution will allow you to easily deliver curated collections to anyone.
How steep is the learning curve?
DAM software makes your organization's content accessible. Look for a system that packages all of the powerful DAM features you need in an intuitive interface – so your team can hit the ground running. Also consider ease of use for external users. Do they need an account to add and retrieve content? Or can you share individual assets, upload links, and public or password-protected portals without much fuss?
Does it integrate with the other tools your team relies on?
Integrations speed up your workflows by connecting your content library with the software you use every day. Look for out-of-the-box integrations with tools like Adobe Creative Cloud, Workfront, and Microsoft Office. Need something more niche? Your DAM solution should offer a robust API, so your developers can connect it with any application you like.
Is it video compatible?
If video is part of your content strategy, the best media asset management software for your team will make it easy to work with video. Can you preview video files without exporting them? Can you trim videos to download just the clips you need? Is there a Premiere Pro integration? Not all DAM systems are video compatible, so make sure to try before you buy.
Can you configure it to make it your own?
Every organization is a unique ecosystem of people, processes and procedures. Your DAM system should adapt to your team and industry. Are there customizable fields to categorize assets and filter search results in a way that makes sense? Can you brand the interface and external portals with your logo, colors and imagery? Consider how easy these configurations are to implement. Is it a simple setting adjustment, or does it require custom code?
Is it secure?
Keep your digital assets safe by ensuring your DAM provider uses proper encryption and security protocols. Where will your assets be stored? Is the data center secure? A reputable DAM provider shouldn't hesitate to discuss security and data protection.
Do they offer high-quality, ongoing customer service?
Choose a trusted vendor with an established track record of providing DAM services to major brands. DAM is a complex field, and it takes time to build up the expertise to serve clients well. Digital asset management is an ongoing process, not just a one-time installation. Look for a DAM vendor that will provide ongoing customer care from an experienced support team.
Learn more about DAM Solutions
Ready to take control of your media library? Get started.